Rural crime in focus on Commissioner's visit to Myerscough College
Published

Thursday 31 March
Lancashire's Police and Crime Commissioner has visited Myerscough College to outline his commitment to tackling rural crime.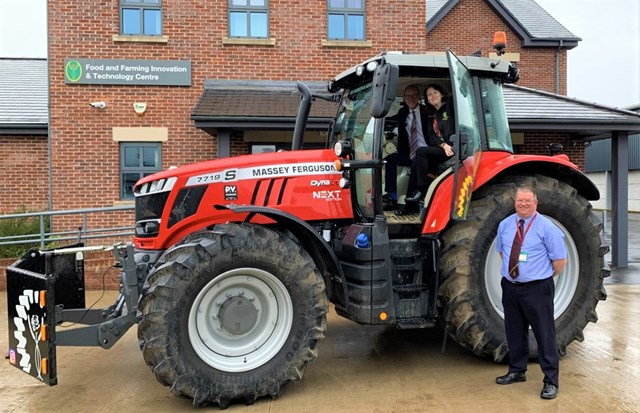 Andrew Snowden said he was keen to explore opportunities to work together and paid a visit to Myerscough to meet some of the team behind the recently launched Farm Defender crime prevention tool developed by the College and Lancashire Constabulary.
The visit follows the Commissioner's recent announcement of a further 700k investment into rural policing over the next financial year which will be used to strengthen the Constabulary's rural task forces to tackle issues including theft of plant and machinery, wildlife crime and trespassing.
Commissioner Snowden said: "It's been great to have the opportunity to visit Myerscough College and to learn more about the Farm Defender tool which was developed in partnership with colleagues from the Constabulary's rural team.
"Solid crime prevention advice is a really important part of keeping our rural communities safe and, together with the additional investments in our rural taskforces, will make a real difference here in Lancashire.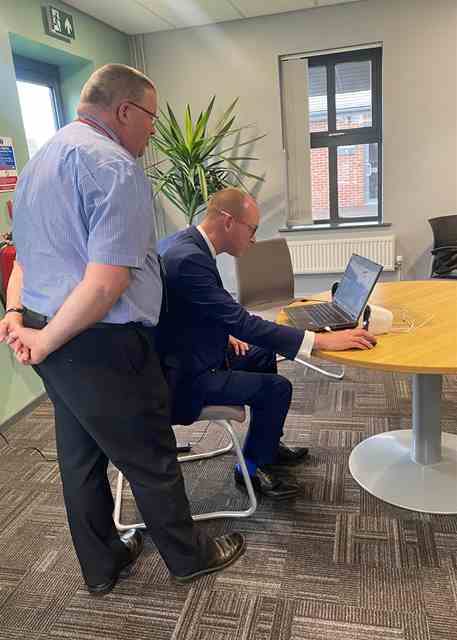 (Above: Andrew Snowden is shown the Farm Defender tool by Myerscough's David Singleton)
"Our rural task forces are already making huge strides in tackling issues such as wildlife crime and trespassing as well as the theft of machinery with over £1m worth of stolen plant and machinery already recovered this year.
"I will continue to explore opportunities to work with partners like Myerscough College to find innovative solutions to tackling and preventing crime in rural areas of the county."
David Singleton, lecturer in agriculture at Myerscough College, worked closely with the force over a number of months to create and shoot the Farm Defender video.
He said: ''Rural crime affects many people across Lancashire and more widely across the country, and Farm Defender is a great initiative to help minimise the risk of farms being targeted.
''This video is already proving to be of significant benefit, not only to our students, but also to the wider farming community, to best equip the workforce to combat crime, and also hopefully to engage as much of the rural population and agriculture sector as possible, some of whom are set in their ways and reluctant to change.''
Alison Robinson, Chief Executive and Principal of Myerscough College, added: ''It was great to welcome Andrew to Myerscough to showcase what we're doing to try and reduce rural crime in the county and beyond.
''Initiatives such as Farm Defender can make a real difference in the sector, and with rural crime high on the Commissioner's agenda, we're delighted to be involved in tackling it.
''We look forward to continuing to strengthening our links with the Commissioner, and Lancashire Constabulary, over the coming weeks and months.''
The Farm Defender tool is a virtual reality (VR) experience that uses computer technology to create a simulated farm environment. It is designed to educate users in an engaging and immersive way about the points on their farm which are vulnerable to organised crime gangs and offers advice on how to protect their equipment and property.