Winners announced in Myerscough Golden Roses 2021
Published

Monday 22 Mar 2021
The winners of the 2021 Myerscough Golden Roses Awards have been unveiled.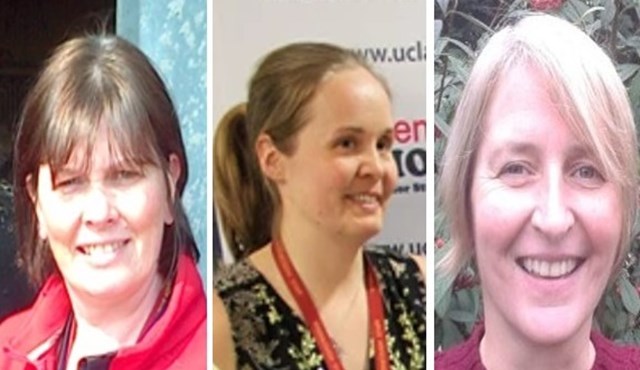 This was the eighth year Myerscough, in conjunction with UCLan Students' Union, have held an awards celebration to pay tribute to teaching and professional services staff across the institution.
The Myerscough Golden Roses are an annual student-led teaching awards held at University Centre Myerscough, in partnership with UCLan Students' Union. They allow all higher education students at Myerscough to recognise staff for the vital role they play in both teaching and supporting students.
With ongoing lockdown restrictions, nominees, staff and degree students were invited to the celebrate online, with the presentations being carried out via video conference call.
This year the award winners were:
Lecturer of the Year
This award is for the lecturer who has made a significant contribution to the academic experience, to recognise their passion, enthusiasm and their ability to keep students engaged in their lessons.
The winner is Anya Westland (Agriculture)
Student comments: ''She consistently goes the extra mile for her students, with an exceptional amount of knowledge and is extremely passionate about her job, captivating her students to get the best results possible.''
''Anya is an exceptional mentor. She went out of her way to guide and restore my motivation and help me unlock my potential.''
''Anya is someone who people can go to, no matter what, and whose teaching is amazing. She goes above and beyond to help us and give us access to additional things such as conferences, alongside making sure support needs are met.''
Highly Commended: Helen Clarke (Vet Nursing) & Louise Bell (Animal Studies)
Student Support Award
This award recognises the staff member who goes above and beyond to offer a fantastic student experience. They'll be approachable and proactive in offering help and treating students as individuals.
The winner is Emma Blundell (Animal Studies)
Student comments: ''Emma has made every possible effort to make this year enjoyable considering the circumstances, and is always there when we need support.''
''Emma has recognised my hidden disability and is amazing with communicating. She's very supportive and encouraging, helping us engage when we otherwise wouldn't have.''
''We can trust her. If I have any queries or concerns, she welcomes them with a positive attitude. She's made me feel so welcome.''
''Emma always engages with me about my disability and encourages me, going above and beyond even when I'm struggling, making the course accessible. She's incredibly approachable even though she's very busy herself.''
Highly commended: Rebecca Gillett (Vet Nursing) & Ruth Clark (Inclusive Learning)
The Myerscough Golden One
This award recognises any member of staff who goes above and beyond. It is in effect, the staff member of the year.
The winner is Irene Weir (Greenspace)
Student comments: ''Irene inspired me to retrain in horticulture. She's always cheerful , enthusiastic and approachable, and never makes you feel like a bother, inspiring me to do the best I could. She show's genuine concern for us and makes the most of the current situation.''
''I'm a distance learner, and Irene has gone the extra mile to make me feel welcome. She's done the upmost to find out what my requirements are and then planned how to level the playing field.''
''It takes a very kind person who goes out of their way to care and also make sure you don't feel uncomfortable in asking for help. Thank you for your wonderful kindness.''
Highly Commended: Catherine Trickett-Tisdall (Vet Nursing) & Danny Cowell (Motorsport)
Alison Robinson, Chief Executive and Principal of Myerscough College and University Centre, said: ''It was really lovely to see everyone online, and thanks for all the nominations.
''Our team are fantastic at delivering higher education (at Myerscough). Our retention rates are superb, as is our student achievement and progression, plus our TEF Gold award is down to the dedication and professionalism of the staff, who go over and above every single day.
''We have had a fantastic partnership with the university for more than 30 years now and were proud to part of their team as a partner college and associate school.''
''Thanks to all of our students who have been involved in the voting and shortlisting.''
Claire Obersby, Myerscough's Quality Development Coordinator, said: ''It's been fantastic to read all the nominations. There are some great comments, especially this year with covid restrictions, many of them focus on the extra support given by staff to our students.''
Steph Lomas, Vice President Education at UCLan Students' Union, said: ''Thanks to Myerscough for working with us on these awards. It was really difficult to choose the winners this year as there were some amazing nominations.
''My personal thanks to all staff, who take part in transformative education for your students. Their success is down to the tremendous work and belief in them.''
by Dave Salmon
DSalmon@myerscough.ac.uk