New cutting edge vet nursing programmes receive formal RCVS accreditation
Published

Thursday 14 July
New cutting edge veterinary nursing programmes available at University Centre Myerscough have received formal accreditation.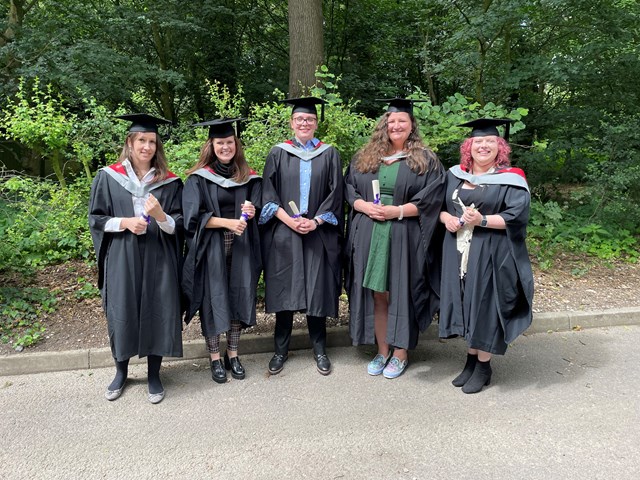 The Cert AVN (Dentistry) and Cert AVN (Teaching, Coaching and Mentoring) courses ran for the first time in this academic year (2021/22), and received such excellent student feedback, accreditation has now been received from the Royal College of Veterinary Surgeons (RCVS) for two additional programmes commencing in September.
The first cohort of learners have now completed the Cert AVN programme, and celebrated their success at Myerscough's Graduation Ceremonies last week. 
Course feedback, which is given anonymously, was overwhelmingly positive, with comments including: 
DENTISTRY
Comprehensive and well-designed lesson structure and content.
Enjoyed the study days in College and being able to discuss fields of interest with like-minded people.
The practical session on local anaesthesia and dental radiography was really informative and enjoyable.
The course will help me enhance colleague, patient and client experience and education.
This course will help consolidate my role as the dental registered veterinary nurse for my practice.
TEACHING/COACHING/MENTORING
I have found my approach to clinical coaching has improved during the course and I have been able to utilise new skills improving our working relationships.
When helping members of staff I find I am now more self-aware of both my actions and the way in which I am explaining things.
I am about to step into a new teaching role and what I have learnt on this course will be extremely helpful for me.
The study weekend days have helped to boost my confidence and working with the tutors on these days really helped – they are really helpful and approachable.
The Cert AVN is accessible, flexible, progressive and professionally recordable and will fill a niche in veterinary nursing education provision. It has been structured in such a way that will facilitate both the personal and professional development of qualified registered veterinary nurses and positively assist those who are returning to academic work.
Through a combination of engaging classroom and online sessions, experienced and interesting guest lecturers and personalised student support, RVNs can be confident that they will receive the best support to ensure they reach their full potential.
With the role of RVNs evolving in veterinary practice there has not been a more exciting time to be a member of the veterinary nursing profession. This course allows RVNs to further advance their knowledge and skills in an area that is of most professional interest and relevance to them, over a minimum of only one academic year, making continued engagement with education a viable option for all qualified veterinary nurses.
Obtaining the Certificate in Advanced Veterinary Nursing will allow RVNs to showcase their advanced skillset and knowledge, benefitting not only the professional, educational and personal development of the RVN, but the veterinary industry as a whole.
The photograph shows Caroline Bright, Alicia Richards, Christine Head, Marloes Baltus and Whitney Ball celebrating the completion of their programmes at Myerscough's Graduation Ceremonies last week.