Arbor Day 2021 begins to blossom
Published

Thursday 19 Nov 2020
Planting and preparations are well underway for Myerscough College's second Arbor Day UK next year.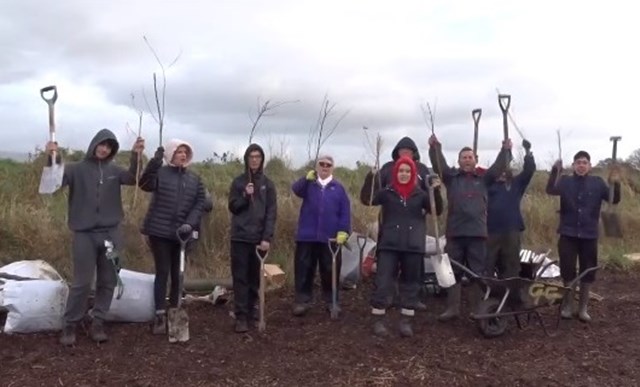 Myerscough College will stage another special day of celebration, planting and careers advice on 4th February 2021, and like the inaugural event, will be a celebration of trees, those that work with trees (arborists), and recognition of an important global industry. It will again take place at Myerscough's main Preston campus at Bilsborrow, and is set to be a mostly online event due to the ongoing Coronavirus pandemic restrictions, although the exact format will be finalised nearer the time.
As part of the plans, many more trees are being planted, a new woodland area is being created on the campus, and Myerscough's greenspace staff and students are engaging in planting initiatives with local communities.
Over the last week, planting has begun in earnest.
Having spent some time preparing the main woodland planting site, various Myerscough student groups have begun visit the new site to work on the project. This includes a group of RHS (Royal Horticultural Society) students, planting species including hornbeam (Carpinus betulus) and lime (Tilia cordata) which have been donated by kind sponsors.
Earlier this week, a Level 1 group of horticulture students were on site to plant trees in our 'Rainbow Triangle' - a new woodland being created in memoriam for those that have lost their lives in the Coronavirus pandemic - and as a 'thank you' for NHS and other key workers who are working at the front line.
They planted sixty large willow cuttings, sixty cell-grown trees and four large standard trees, learning about planting trees at the right level, tree protection and support - and how to mulch without covering over the tree's root flare.
Senior Lecturer in Arboriculture, Duncan Slater, says: ''Despite all the disruption this year, we are doing all we can to make our Arbor Day at Myerscough College a bigger and more exciting event - albeit that it will have to be a socially-distanced and mostly digital event this year.
''We are starting the build-up to the event now. As well as planting many trees with our staff and students, team members take on individual challenges to raise money for charity.
''We are raising money in aid of Mersey Forest Foundation and every donation will help. Thank you in advance for your contribution to this cause that means so much to us. Our charitable activities act to enhance and improve, maintain and protect our environment and landscape within the north west, for the benefit of everyone.
''We are still seeking sponsors, donors, attendees, speakers and companies to meet and talk to our students - at whatever level they are at. Get in touch if you'd like to support or get involved with our Arbor Day efforts.''
by Dave Salmon
DSalmon@myerscough.ac.uk