Higher education Research Conference and Industry Expo a success
Published

Monday 14 Nov 2022
University Centre Myerscough's Research Conference and Industry Expo was a huge success.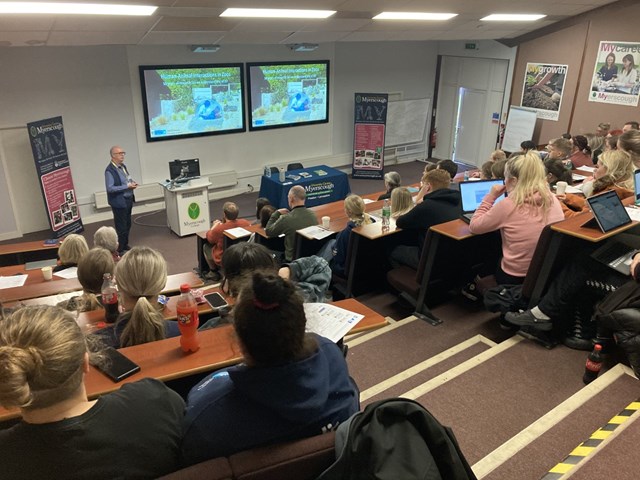 The conference was split into three main areas, covering Sustainable Agriculture and Arboriculture, Animal Welfare and Equine Performance, and Sports Health and Performance.
The event promotes the whole concept of research and its essential part it plays in the College's learning experience. Once again the feedback showed it was an excellent event and attendees commented on how well the research had come across. All sessions were extremely well attended and external attendees were clearly impressed at the standard and extent of research.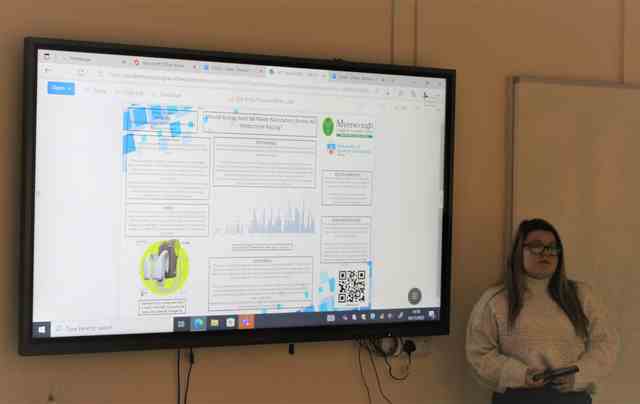 Meanwhile, the afternoon Industry Expo provided a development opportunity for degree students to share their research and ideas from their final projects, with poster presentations by programme learners from Animal Studies, Agriculture & Countryside, Equine Studies, Motorsports, and Greenspace and Creative Design all taking part.
Research topics included 'mental health in motorsports', floristry and the emerging people within it with creative skills, and research into the importance of more apple orchards across England.
The event has successfully showcased our student work and shown what a diverse range of research we undertake at University Centre Myerscough. This event could not have been made successful without the support to the teaching and support staff, students and of course industry representatives, friends and family, and research collaborations which make this all possible.
Myerscough's Sport Research Expo brought together industry experts, lecturers and higher education students to discuss, debate and challenge issues of sustainability in golf.
The event began with a keynote talk from Dr John Fry (Research Lead for Sport) and Dr Stewart Brown (Senior Lecturer in Sport) who outlined the history and evolution of golf and the environment, as well as strategies to help maintain sustainable practices into the future.
John said: "The Research Expo event highlighted the various pressures associated with climate change, and how University Centre Myerscough have drawn up an action plan to support the golf industry into the future.
''This involved desktop research, reviewing the academic literature on sustainability and sport, in addition to generating empirical evidence by interviewing various members of the golf industry during a series of site visits.
"The final results, scheduled to be delivered to the R&A in January 2023, provide a detailed step-by-step guide for golf clubs, on how they can best ensure their business operate in an environmentally sustainable way. It includes academic research, case studies of best practice, and expert interview analysis".
Following the keynote, a panel debate was opened between industry experts from across the sport sector and Myerscough students. Industry guests included: Emma Huggins (Sustainability Manager, England Golf) and James Hutchinson (Sustainability Executive, BIGGA).
A number of topics were discussed, including how to manage players perceptions of what the future golf course will look like, reducing course inputs without affecting playing quality, and more efficient management of resources. Students then offered a number of recommendations that golf could do in order to embed sustainability practices in its clubs.
Chris Pinkett, Head of Sport at Myerscough, added: "Being involved in projects like R&A's Golf Course 2030 means that Myerscough students are not only acutely aware of environmental concerns as part of their studies, but they are playing a direct and important role in impacting on the decisions the industry makes in regards to climate change.
These experiences mean students are equipped with the skills for green careers par excellence".
Further details on this is available from Dr John Fry by emailing jfry@myerscough.ac.uk
Among the range of other industry guest speakers included Professor Geoff Hosey, Dr Henrik Sjoman, Dr Harry Watkins.

Head of Higher Education at University Centre Myerscough, Zulakha Desai, said: ''Our industry day was a fantastic team effort from across our provision and a successful day indeed.
''We welcomed speakers from across subject disciplines, with our own research active team who presented their recently published work.
''Speakers travelled far and wide to be with us, including Dr Henrik from Sweden, and experts who couldn't make it in person but wanted to share their research via teams also joined us to be part of our day of academia. There was even some book signing going on too!
''As always, research never stops and our researchers in the HE lecturing team have been invited into other conferences, to attend as keynote speakers and conduct further research.''