Myerscough Motorsport invited to assist at 'Race of Remembrance'
Published

Friday 11 Nov 2022
A team of four students from Myerscough College and University Centre have been invited by the Royal Air Force Motorsport Team to assist them at the annual running of the 'Race of Remembrance'.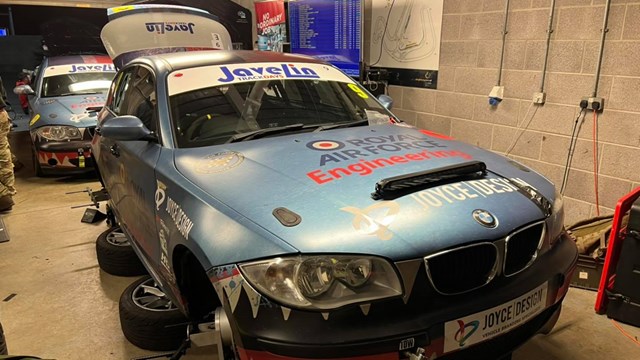 This is an endurance event held annually at the Anglesey Circuit and features a three-part 12-hour endurance race centred around the Sunday Service of Remembrance.
This opportunity has come about as a result of the relationship which has been developed between the Myerscough Motorsport Department and the Royal Air Force Motorsport Team that was forged as part of a sustainability initiative which involved the Myerscough Electric Corsa rally car being displayed at the Royal International Air Tattoo. This has resulted in a joint venture that will see employability opportunities for Myerscough students.
The students are going to be embedded into the RAF team working alongside experienced race technicians, running three BMW 116 Trophy specification cars and one Chaterham Sigmax.
The event takes place over the weekend of 11th to the 13th November and students will be involved in car set up, general preparation, timekeeping and race strategy, Data Analysis and the operation of the pitstops.
The team will be ably assisted by Higher Education Lecturer Chris Boyle, and we wish the team well!