Winners announced in Myerscough Golden Roses 2022
Published

Friday 1 Apr 2022
The winners of the 2022 Myerscough Golden Roses Awards have been unveiled.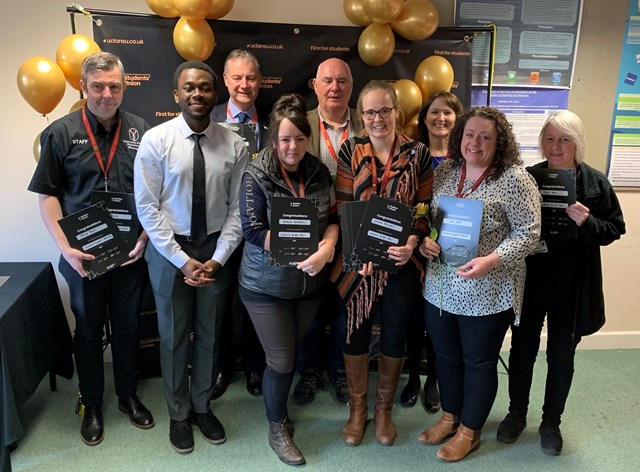 This was the ninth year Myerscough, in conjunction with UCLan Students' Union, have held an awards celebration to pay tribute to teaching and professional services staff across the institution.
The Myerscough Golden Roses are an annual student-led teaching awards held at University Centre Myerscough, in partnership with UCLan Students' Union. They allow all higher education students at Myerscough to recognise staff for the vital role they play in both teaching and supporting students.
After the last two years of the awards being held online due to the pandemic, the 2022 ceremony took place in the HE Centre at Myerscough's Bilsborrow campus.
This year the award winners were:
Lecturer of the Year
This award is for the lecturer who has made a significant contribution to the academic experience, to recognise their passion, enthusiasm and their ability to keep students engaged in their lessons.
The winner is FRANKIE KERRIDGE (Animal Studies)
Student comments: ''Amazing.''
''She goes above and beyond for each individual's needs. She's kind and treats students with respect and dignity.''
''She made the transition from my college to university course very easy.''
''She uses interactive and fun methods to ensure good learning and give students opportunities they wouldn't have got otherwise.''
''Positive, honest and funny.''
Shortlisted: Andrew Taaffe (Greenspace), Emma Blundell (Animal Studies), Irene Weir (Horticulture), Nichola Bradshaw (Equine)
Student Support Award
This award recognises the staff member who goes above and beyond to offer a fantastic student experience. They'll be approachable and proactive in offering help and treating students as individuals.
The winner is SAM COOK (Floristy)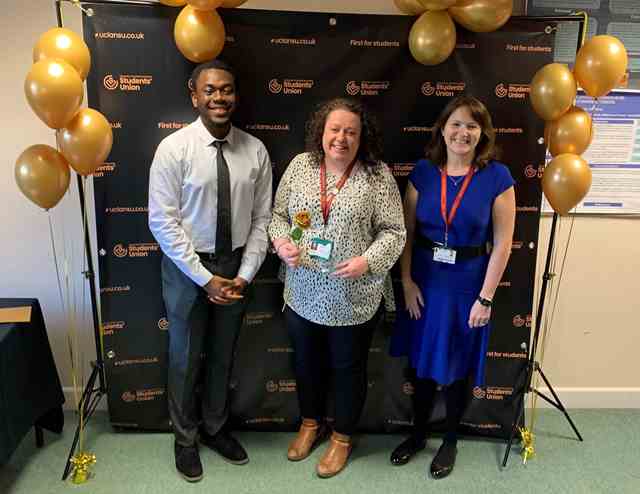 Student comments: ''Sam is so supportive, encouraging and enthusiastic about the subject.''
''She helps students through difficult times and encourages them to never give up.''
''I would have dropped out of my course without her support.''
Shortlisted: Emma Blundell (Animal Studies), Phil Boyle (Motorsport)
The Myerscough Golden One
This award recognises any member of staff who goes above and beyond. It is in effect, the staff member of the year.
The winner is JON HUMFREY (Library, Laboratories & HE Centre)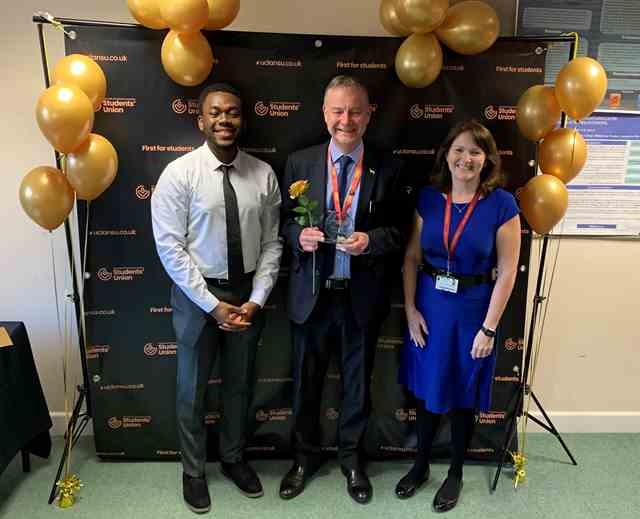 Student comments: ''Very helpful, kind and funny.''
''He looks after students and always helps with any issues they have. He goes out of his way to do so without delay.''
''He performs some great magic tricks!''
Shortlisted: Emma Blundell (Animal Studies), Frankie Kerridge (Animal Studies), Phil Boyle (Motorsport)
Usman Kasaba, Vice President Education at UCLan Students' Union, said: ''These awards are designed, nominated and voted for by Myerscough students, so it makes them extra special for the staff receiving them, or a nomination.
''A student panel went through all the award nominations to create a shortlist in each category, and we celebrate those nominees today. It was extremely difficult to make a decision.
''We have a special relationship with Myerscough, as is demonstrated here. Congratulations to all winners and nominees.''
Alison Robinson, Chief Executive and Principal, said: ''It's fantastic to be here in person, three years on from our last on campus event.
''There's nothing more special than students telling us what a fabulous job our staff do. They're the ones who inspire us to excellence and why we love what we do.
''I'm so proud of all of our team every single day. They give our students a fantastic higher education experience. Thank you all so much, and thanks to the UCLan team for making the awards possible.
''Thanks to all our students for making the nominations, without their feedback we wouldn't be here today.''